Motorola ROKR = An iPod Extension?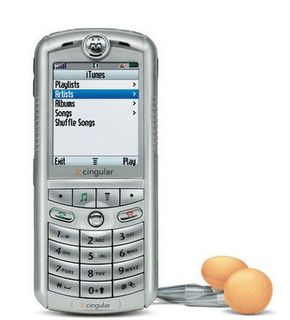 Apple iPod
was one of the biggest hits complemented with
iTunes.
iTunes enabled users to download their favourite songs onto their iPod. iPod limited itself only as a music player. It was on the cards that Apple may launch their own set of cell phones with iTunes interface. But Apple being apprehensive for the first time tied up with
Motorola
to roll out
ROKR
(pronounced as ROKR). ROKR is launched in US and its available from
Cingular Wireless
for
$249
plus a 2 year contract. During the presentation, Apple CEO,
Steve Jobs
addressed ROKR as "iPod shuffle in your phone."
Specifications:
Network: GSM 850/1800/1900 MHz. Dimensions: 108 x 46 x 20.5 mm. Weight: 107 grams. Display: 176 x 220 x 262k color screen. Camera: VGA camera with 4x zoom with video capture opportunity. TalkTime & Standby: 560 minutes & 230 hours respectively. And more importantly it supports iTunes with built-in stereo speakers.